Newest Book! The Wolf's Enemy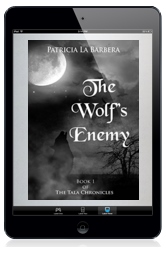 See additional books here.

OTHER PUBLISHING CREDITS

I won a prose contest sponsored by Gotham. My poem "There Is No Light" received the first-place award in Connecticut's NFSP 2010 contest. My poem "Waves" won in a "Women and War" contest in England.

My work has appeared in With Painted Words; Emerald Tales; Everyday Weirdness; BluePrint Review; Fear and Trembling; A Handful of Stones; Short, Fast, and Deadly; Death Rattle; Trapeze Magazine; Punkin House Digest; Flutter; Big Pulp; Lacuna; House of Horror; and Hazard Cat.

Two of my stories were anthologized in collections from Static Movement, Don't Tread on Me and Flash!, and one story was published in the Frightmares anthology from Dark Moon Books.

The Shortest Stories published one of my flash fiction pieces as a podcast.

Three of my humorous horror poems are in the December 2012 issue of Big Pulp.

Below is the trailer for my book, The Celtic Crow Murders, also available on Kindle.